Large format printers (also known as: wide format printers) are printers that support a much wider feed width than a traditional printer. Many large format printers support page sizes up to 100 inches. Since these printers are capable to support truly large products, there are a lot of really cool and fun products that can be created with them. Many of these projects can be used for business purposes, for design or for production.
For the people that haven't had the chance to operate a large format printer, they may ask what exactly can be made with a large format printer? Companies can use a large format printer for many different uses, such as: Office use, CAD Drawings, GIS Data, Color Presentations, Graphic uses, Car Decals, Banners, Creative Printing, and Production. Here are the details on some of these popular uses: 
Office Uses 
A large format printer is an invaluable asset in many office settings. Because they are versatile they can be utilized to print everything from memos, to CAD drawings, to GIS data, to color presentations. The availability of large format printers has really changed the face of how businesses operate. 
CAD Drawings 
CAD drawings, often utilized by designers, architects and engineers, were once an outsourced product. The engineer would design and draw up the product, then the file would be shipped off to an outside printing site to create the drawings on a large scale. Blueprints and architectural drawings were done this way. The turn around typically took hours if not days. An in-office large format printer allows CAD drawing to be printed in minutes. The entire process makes these industries more effective and more efficient. 
GIS Data 
GIS data sets are large and can seem unwieldy. In fact, they are almost impossible to print in a traditional printer, and if you were to try and print such information very little of it would be decipherable. Large format printers allows businesses that work with GIS data, to design and print large scale projects in moments. Not only is the data laid out properly, but the high quality printing that takes place ensures the integrity of the data and information contained within the data. 
Color Presentations 
Color presentations are utilized in all types of industries and businesses. In fact, these presentations can be used to garner new customers, inform current employees of trends and changes to the market, or help to procure more funding. While color presentations can be helpful, they often needed to be outsourced to look picture perfect. Large format printers make it possible for large-scale, color presentations to be created in-house. Not only does this ensure the quality of the product, but it reduces the overall cost of creating such presentations. These aides may also be used at trade shows. 
Graphic Uses 
Large format printers, such as the HP Designjet, are especially useful for graphic projects and design elements that can help pep up an office, or advertise a business. Banners, car decals, optical illusions and life size advertisements all can be created, in-house, utilizing a large format printer. 
Car Decals
Have you ever been behind a company car, or truck that has a large mural on the back or side? They look pretty cool, and they are a great way for a business to advertise itself, especially a service-based business that goes to customers. All the time those trucks spend on the road are moments were they are advertising the business. Once upon a time, creating vehicle decals was cost prohibitive for small businesses, but large format printers can create those decals in no time at all. All you really need is the printer, and the proper paper, and suddenly you have a decal that can be applied in just a couple of minutes. It's a fun, interesting and effective advertising method, at the very least.
Banners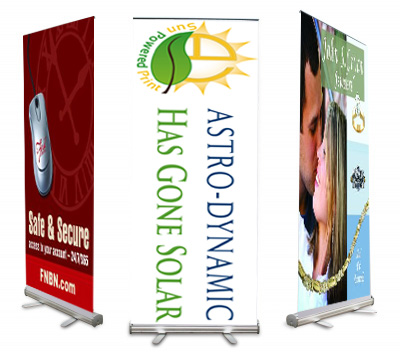 This is another area that used to be entirely cost prohibitive for many businesses, but large format printers have solved that problem. Banners advertising special sales or deals can be printed up quickly and efficiently, and when your done, you can store them just like you would any other signage. Remember, you'll need special paper for this task, too, but we think its worth it. Banners, after all, are a great way to advertise special events, especially if your business happens to be located on a major thoroughfare, or sees a lot of foot traffic.
Creative Printing
Everyone loves an optical illusion, and a large format printer can help you make one. Some clever artists have taken to creating floor panels using large format printers. These panels make the floor of a bathroom, kitchen or, really, any room, look like anything but a floor. The options for this project are endless. You can create a simple logo design on your floor, or you can create the appearance of a black hole, a waterfall, or a large scale Tetris game. If you can dream it up, and use computer software, odds are the printer can handle creating it for you. These also use decal paper, which is readily available through printer supply stores and companies.
Production 
While large format printers are truly wonderful for creating cool presentations and graphic decals, they are truly a workhorse. Large format printers can really do it all. They can print at high rates of speed, so you'll never have to worry about running out of time while printing out fliers or other sales-related items, and the product produced is still high quality. Because large format printers are designed with large projects in mind, they can tackle just about any project you can throw at it. Fast printing, even color, and a quality product are all components you'll find with a large format printer. 
The Bottom Line 
A large format printer really is an amazing machine. They are becoming more and more common as technology advances, and the need for fun and inventive advertising campaigns, quick turn around on projects, and eye-catching designs continues to grow. Large format printers are only limited by your own imagination, so consider leasing or buying one and let your imagination run wild. Your business and clients will thank you for it. 
Interested in learning how Large Format can specifically help your industry? Visit our HP Large Format page for more information. The Hewlett-Packard DesignJet Large format printers are making a difference for companies all around the world. Ask us for a how!